Chef/Owner Richard R. Hobbs is a culinary professional with a degree from the School of Culinary Arts where he trained under the watchful eyes of world-renowned Master Chef Charles Boley, Executive Chef David Binkle and Egyptian Executive Chef Mohammed Metwally. Here he received extensive training in Classical French, International, American Regional, and Mediterranean Cuisines, with strong emphasis on Nutrition.

Born and raised in Texas into a family of great cooks, Chef Hobbs began his culinary adventure early on.

Chef Hobbs draws on heavy Texas and Southwestern influences that he learned growing up, and from working under local celebrity Chef Jennifer Brightman formally of The Classic Café in Southlake Texas.

Chef Hobbs is certified with the State of Texas in Sanitation and Safety and will prepare and handle your meals with the utmost care.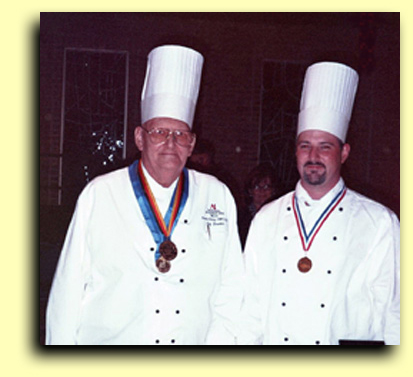 Chef Hobbs pictured on the right with Master Chef Charles Boley.